I have a new toy! (The Hubbie did great for my birthday!)
Ever since I was a little girl, I've been fascinated with photography.  It started with my first Brownie camera – remember those?  But somehow all I ever progressed to were "point-and-shoot" cameras.
Because I always had one rule – my camera must be convenient.
It couldn't be heavy, it needed to fit in my purse, it needed to be easy to use.  I wanted artistry that didn't interfere with my life.  Now don't get me wrong – point-and-shoot cameras have become pretty good over the years.  But looking at other people's photos, I know I can do better….a lot better.
If only I had a "real" camera to take advantage of all its features.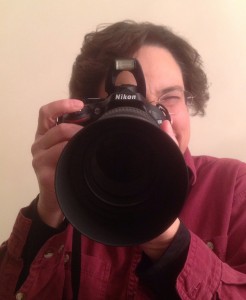 So I was delighted when the Hubbie got me a "real" camera for my birthday, with lots of lenses, settings,  buttons, dials and other gizmos that attach and plug in….somewhere.  I'm still figuring out where.
Which leads to my next dilemma….how do I use this thing?
Because when faced with a "Kodak moment," I need to set up the camera to capture my spectacular picture. And for that, using my camera needs to be second nature.
But there's a major temptation I face, every time I use it.  It's called….Auto mode.  That evil Auto mode…..
It seems the marketers knew there'd be lots of people like me who want good results, but don't want to do the up-front work for outstanding results. So they made Auto mode, which essentially turns my camera into just an expensive point-and-shoot model. Trapping me forever in the world of pretty good, but not great….and definitely lacking the competence to work a "real" camera.
What do I need to be competent?  Not much. Actually, I have everything I need – except practice.  Taking the same picture over and over, using different settings – in MANUAL Mode – seeing what works and what doesn't.  Changing lenses until I figure out how to do it quickly. Over and over. It will happen if I spend the time.
But somehow it's never "the right time" to practice.  It's just so tempting to use Auto.  Nikon gave me a booklet on how to set the camera for each kind of picture.  A reference manual.  But how can I see a great shot – and then tell everyone "hold that pose" while I go read the reference manual?  Tell your family that.  Tell a bunch of wiggly kids that.  Tell a sports team to freeze the action for a few minutes. HAH!
But my friend Auto……
Auto is easy.
Auto is comfortable.
Auto makes me look like I know what I'm doing…..even when I don't!
I love Auto…..
But……only spending time in Manual mode gives me the maturity I want.
I got a bit uncomfortable when a little voice hinted to me that this was like my faith.  

There's a difference between interest and commitment.  When you're interested in doing something, you do it only when it's convenient.  When you're committed to something, you accept no excuses; only results.  – Kenneth Blanchard
I often wish I had great faith – like Paul, or Billy Graham.  God's made it clear – God doesn't play favorites with our faith.  I CAN have great faith, if I'll get out of "Christian Auto" mode, be willing to roll up my sleeves, work in "Manual" mode and trust God, step by step.
Now Auto mode is not entirely bad.  It's kind of like training wheels for your bike – supporting you, helping you develop basic skills.  We all need to start in Auto mode.  But we miss out if we stay there.
What does Christian Auto mode look like?  It may be different for you, but here's what it looks like for me:  focusing only on building and maintaining relationships with Christians, because they support me in my spiritual walk without really challenging me.
Not bad….but if I want to have mature faith, I need to move into "Manual mode", stepping out in faith and trying new things.  For me, that means focusing on developing relationships with non-Christians, especially those that are "unlovable," or involved in "the big sins."  Being their friend, loving them right where they are, in tangible ways so they can see the love of Jesus in me.
Maybe you can relate to that.  Or maybe to these:
Auto: Attending Bible studies, but not reading the Bible myself (other than perhaps looking up some verses for Bible study homework).
Manual – Daily Bible reading and studying – on my own.  Finding one thing each day to apply…..and then applying it.  Reading the Bible all the way through….several times.
Auto – Talking about something I do at church, without ever talking about faith issues.  Or inviting friends to church so they can hear someone else talk about Jesus.
Manual – Learning to talk about my faith in everyday language folks can understand.  Initiating spiritual conversations with non-Christians, that progress all the way from general spiritual topics to helping them commit their lives to Christ.
Auto – adding items to a prayer list.
Manual – routinely getting on my knees for my needs and the events of my day – that one day.  Sharing with others about how God answered my prayers that day.
I have to confess – so often I intend to operate in Manual – but in that last moment, I cave. I resort to Auto.  It's a day-by-day moment-by-moment thing – so many decisions, each one about whether I'll step out in faith, or whether at the last minute I'll say "Maybe next time." Each "next time" delaying the growth of my faith to maturity, my ability to trust God and capably handle the situations that are coming my way.
So….over the next several months, I'm going to spend a lot of time with my new camera…first in Auto mode, but quickly moving to Manual mode.  Because I want to grow in my photography skills.  And that "evil Auto" button is my reminder that I need to shift into Manual…to gain Maturity.
And when it comes to Jesus?  I'm asking Him for an opportunity each day where I can wade into Manual….for Maturity. My current area of focus is making social connections with those that don't yet know Jesus – a divine appointment.  I'm excited to see what God will do as I practice trusting Him!
How about you – when does your faith slip into Auto?   Or perhaps you can encourage others with the story of how you were able to step out in your faith?  I'd love it if you'd share your perspective in the comments!