At the risk of being branded a heretic, I've decided to give God a new name.
It all started a few weeks ago at a Compassion conference, where I heard a young woman from the Philippines tell the story of how God rescued her from a hopeless situation.   I had no idea that an hour later, my own life would be turned upside down and I'd be clinging to her words.
Her name is Keewani Vallejo – but her friends call her Kiwi.  Looking at her today, you'd never guess she grew up in total poverty, living in a bamboo shack. Her twin brothers were born by C-Section – their mother cut open…without anesthesia. Three brothers died in childhood from medical complications. Her family lived on rice and soy sauce. And when it rained, they would wake up to flooding – the water dark, pungent, full of rats and garbage.
Things began to change when she was enrolled in the Compassion International sponsorship program at her local church. She began attending school.
But Kiwi was still living in poverty….
One day at church she asked her teacher "Ma'am, why are we poor?" Her teacher answered "Kiwi, I know this is your situation right now, but the Bible says God has plans for you, plans to prosper you and not to harm you, to give you a future and hope. Kiwi, this is your situation right now, but this is not your destiny." (Jer. 29:11)
And so Kiwi began to break out of her "mental box" and dream of a life outside of poverty. Even though she could see no way out. And as Kiwi told us the various trials of her life, she kept reiterating her prayer – "God, this is my situation. I know you have a plan, even thought I can't see it right now." She then told us how God coordinated various circumstances that totally changed her life. Fast forward 20 years, and today Kiwi is a licensed physical therapist, giving others hope by sharing how God worked in her own hopeless situation.
God did have a plan, and it was good after all.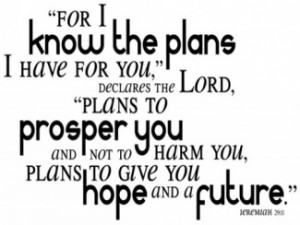 I'll admit Jeremiah 29:11 isn't new to me. Not at all. But it's relatively easy for me to talk hope and future, when I have family, friends, church, money, and – if all that fails – I have government programs.  Heck, I even Facebook (I've seen some amazing posts for people needing jobs, money, friends, you name it – and answers flood in). In that environment, it's easy to talk about hope and a future.
But when you're living in deep poverty, with no options and no way out, it's an entirely different thing to say "God has a plan – this is my situation, but it's not my destiny." To trust God in spite of everything you've ever known. That takes faith. In times like that, how long would I hold firm to "God has a plan" before I start to feel stressed?
And as I was pondering all this, it happened….
Within an hour of Kiwi's talk, I received texts, emails, and facebook messages.  All saying the same thing – "EMERGENCY," "Come ASAP," "Mom fallen and in hospital."  I would soon learn she was being taken to the Intensive Care unit.
This was not MY plan.  I had great plans for the conference I was attending that day.  I had friends coming to stay at my house that night.  I couldn't "Come ASAP"…but I had to.  And so I began to pray "God, You have a plan. I don't know what it is, but I know it's good. Help me trust your plan."
This may not seem profound, until you compare it to my normal prayers.  Because….well, let's just say I am the master of planning. And I tend to prefer my plans to God's plan.
Too often I pray:
"God, help me know what to do." Which really means "I've got most of this figured out, but I'm stuck on this one point. If you'll help me here, I'll handle the rest.  Oh…and I'll call on you again if I need you.
OR
"God, please fix [this problem]." Which really means "I'm focused on this one problem, not the big picture. Even though I know You're working everything for my good in the big picture…yeah, I'm still stuck on this one problem right here and now. Because it's messing up MY plan.
But "God, I know You've got a plan, and I trust Your plan" is different. It means:
"God, you're in control, not me.  I may want things fixed today, but I know you're focusing on my best in the long-term.  I don't know exactly what you've got planned for me, but even if it means tough periods along the way, I'll trust you."
So in the last few weeks of dealing with my Mom, I've been practicing "God, I have no idea how to deal with this.  But I know you have a plan." And you know what?  God has shown His plan!  Seemingly out of nowhere, He's provided people, information and resources where I didn't see any – before I even got a chance to ask God or anyone else for help.
I hadn't been alone – God was with me all the way.  He was using the very situation I wanted Him to get me out of to reveal Himself to me.  Showing me He was meeting our needs.   Building up my faith.  Preparing me to stand firm in the future.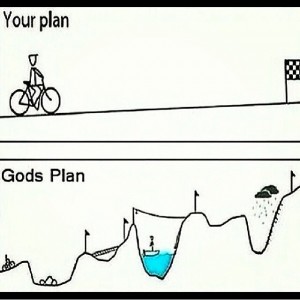 Yes, God has a plan, and it's way better than mine.  If I'll only stay flexible, trust God and take the time to notice Him acting.
And so I've decided to give God a new name.  A name that helps me remember God is with me, and He's got it all under control. That helps me remember my plan pales in comparison to His. You may have read some of His other names in the Bible. Names like:
El-Elyon – The most high God.
El-Shaddai – God Almighty
Jehovah-Jireh – The LORD will provide
Jehovan-Shalom – The LORD is peace.
And now my contribution to the list, complete with (definitely questionable) anglicized Hebrew:  El-Machashabah – God of "The Plan."
How about you? How has God let you know He was with you in tough situations? If you had to pick your own name for God, what would it be and why?
I'd love to hear your thoughts in the comments!